At VengePros, our mission is to empower you with the knowledge, tools, and inspiration to lead a healthy and active lifestyle. We believe that physical fitness is not just about looking good but also about feeling strong, confident, and resilient. Through our comprehensive range of resources, we aim to educate, motivate, and guide you on your fitness journey, enabling you to overcome obstacles and surpass your own expectations.
Hi I am Alexis!
Welcome to VengePros, your ultimate destination for all things health and fitness. My name is Alexis, and I am thrilled to share my expertise and passion for kinesiology and physiotherapy through this platform. With years of experience in the field, I am dedicated to helping individuals achieve their fitness goals, improve their overall well-being, and unleash their full potential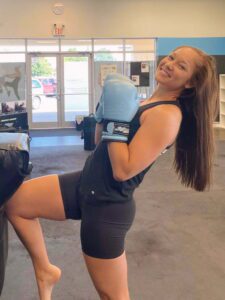 What we offer
Informative Articles: Our website features a wide range of well-researched articles covering various aspects of health and fitness. From exercise techniques and training tips to injury prevention and rehabilitation strategies, we provide valuable insights to help you stay informed and make informed decisions about your fitness routine.
Workout Plans: We understand that everyone's fitness goals are unique, and therefore, we offer personalized workout plans tailored to your specific needs. Whether you're a beginner looking to kickstart your fitness journey or an experienced athlete seeking to break through plateaus, our expertly crafted workout plans will guide you toward success.
Nutrition Guidance: A balanced diet is crucial to any fitness regimen. With our nutrition guidance, you'll learn about the importance of healthy eating, meal planning, and fueling your body for optimal performance. We provide nutritional tips, delicious recipes, and advice on maintaining a sustainable and enjoyable diet.
Injury Prevention and Rehabilitation: As a trained physiotherapist, I have firsthand experience in dealing with injuries and the recovery process. I will share my knowledge and expertise to help you prevent injuries, manage pain, and regain strength after setbacks. Our injury prevention and rehabilitation resources will assist you in safely and effectively overcoming obstacles on your fitness journey.
Community Support: We believe in the power of community and the importance of support in achieving fitness goals. Our website provides a platform for like-minded individuals to connect, share experiences, and motivate each other. Join our community and be part of a supportive network of individuals striving to transform their lives through health and fitness.
I am excited to have you join the VengePros community and embark on a fulfilling journey toward better health and fitness. Explore our website, dive into our articles, and take advantage of our resources to unlock your full potential. If you have any questions, or suggestions, or would like to share your success stories, feel free to reach out. Together, let's make fitness a way of life!
Stay Fit, Stay Strong!